My Civil War
Before, During and After
1861-1865
by
Josiah Conzett
1841-1913
---
Part 1
---
For Patricia and all other "lost" Conzetts;
may they recognize and cherish
the heritage which is uniqely theirs
2
---
Foreword By Donna Conzett Dumbell 5
Editor's Foreword 6
Technical Aspects And History Of This Publication 7
The Early Years In Switzerland 10
1750 10

1841 12
Arrival In Dubuque 13
Gillick Murder and Hanging 15
The Civil War Years 18
1861 18

1862 20

Battle of Ft. Donelson, Tn. 21

Sick at Evansville, In. 22

Battle of Lockridge's Mill, Tn. 25

Scouting From Ft. Heiman, Ky. 27

1863 37

Battle of Chickamauga 46

1864 51

Re-Enlistment at Pulaski, Tn. 51

Furlough to Dubuque 53

Return to Duty at Nashville 55

Battle of Newnan, Ga. 57

Battle of Franklin, Tn. 63

Battle of Nashville, Tn. 68

1865 71

March to Selma, Al. 73

Battle of Ebenezer Church 74

March to Columbus, Ga. 77

March to Macon, Ga. 82

Return to Newnan, Ga. 85

Muster Out at Nashville 88

1866/67 92

Trempealeau, Wis. 93

1868 94

1869 95

Platteville, Wis. 97

1870 99

Dubuque, Ia. 99

1875 101

1877 102

1880 103

1882 104

1888 106

The St. Paul Years 109

The Vanderbie Ancestors 124

INDEX 129
4
---
These memoirs of my paternal great-grandfather, Josiah Conzett, are for me a remarkable record in that they provide a contrast between two crises of identities --- one of a divided nation, and the other of an obscure store clerk.
Woven into the fabric of these pages, and more movingly, into those that have been mysteriously abstracted, is the understated love story of two young immigrants whose courtship was enacted against the backdrop of the American Civil War.
The eyewitness account of that war, which is the major part of the book, shows its every aspect --- the comradeship, the humor, the obscenity and the brutality.
Throughout this record one feels that Joe was destined for greater things if only he had the education, which he himself shunned and the opportunities, which ever eluded him. But although he lacked material success, one is left with the impression of a God-fearing man of indomitable spirit whose type was the very backbone of the great emergent nation of the nineteenth century.
In writing the foreword to these memoirs I have had the easy task. We are all indebted to my sister-in-law, Edith Dayton Conzett who took on the enormous labor of deciphering the faded and spidery script of the original diary and typing it out complete with the misspellings which are such an integral part of the book. I know that both of us have found it a fascinating and rewarding project. Further thanks is given to Allan E. Sigman, President of the Union-Hoermann Press who once again has made possible the publication of a family document.
To Great-grandfather Joe I say, Rest in Peace . . . and Thank you.
Donna Conzett Dumbell
29th March, 1973
5
---
The words of Josiah are alive with the obvious passion he felt for life. They affect and enlighten with an almost childlike wonder of all that surrounded him.
It was, perhaps, that very awe of life that prevented him from grasping the Brass Ring. His life was not an easy one, but one filled with love, hope and disappointment. Many of his difficulties stemmed from his own shortcomings, and softened by the compassion of all who surrounded him.
This book is, foremost, a story about a man. Every life has highs and lows, and Josiah's was no exception. His was far from idyllic, sprinkled with war, death, birth, love and calamity. His words allow us to stand beside him and truly experience his time and place.
By project's end, I have come to know and love Josiah as a dear friend. Were he alive today, he would be the favorite uncle. The one you could always count on for a chuckle at family gatherings. An infectious charmer with the ability to make you feel at ease in spite of yourself.
How lucky each of us are and honored each of should be who can claim the right to call Josiah their ancestor.
Lawrence A. Conzett
December 10, 1993
6
---
Technical Aspects And History Of This Publication
There are two types of people who may wish to read Josiah's Civil War memoirs, those who are interested in the times and history of the war and it's people and those who are researching specific events or people. I have endeavored to satisfy the needs of each.
To that end, one finds the text on the left facing page to be the corrected version of that text found on the right facing page, the original version. This makes for easier reading, but retention of the original text is preserved. The text on the right page is an exact image of that found in the original book.
It is implied that Josiah kept a diary throughout his service in the Civil War. Mention is made of Josiah's "Mems" book kept in the breast pocket of his uniform. The manuscript itself appears to have been written by Josiah over a period of time, chiefly between 1904 and 1909, and the Mems book referred to during that writing. As of this date I have not seen, nor do I know the location of, any of Josiah's papers, the Mems book or the original manuscript, if they still survive. The numbers in parenthesis (#) denote the original page numbers of the manuscript handwritten by Josiah. They were found at the top of each page.
The original manuscript was then translated by Edith Dayton Conzett and typed by hand in 1973. The typed pages were then copied and spiral bound in a very limited edition by Donna Conzett Dumbell. One such copy is held by The University Of Dubuque, the source of the photocopy used in the preparation of this book. Special thanks and recognition is given to Mr. Joel Samuels, Archivist at the Library of The University of Dubuque for his eager enthusiasm and help in research. The numbers in brackets [#] denote the page numbers of the 1973 publication. They were found at the bottom of each page.
7
---
This book was "found" by myself in August, 1993 in the Archives of The University Of Dubuque during a genealogy research trip. My wife, Carol Hoyle Conzett, and I entered the text from the photocopy into a computer based word processing program. After thorough proofreading to ensure correctness, the file was saved as a true image of the original, and printed on the right facing pages.
That file was then used as the basis for the corrected version, printed on the left facing pages. The text has been corrected for grammar and spelling only, and every effort was made to ensure the original flavor was not altered. Where research has proven surname or place name spellings to be inaccurate, they were corrected on the left page only.
At no time has any alteration of the original text on the right facing pages been made. This was done so that the casual reader interested in the story of Josiah could easily read the left pages, while the serious researcher could refer to the original text on the right and make their own judgment or interpretation of the writing.
Where information in the 1973 publication was entered in a non-standard fashion, it is noted by three stars (***), followed by the information, followed by three stars. The text within the stars is followed
by a description of how the text was found to be written.
This publication was produced in a very short time on a spare time basis and was very much a learning experience. As such, there are bound to be errors and the like. I humbly ask for the reader's indulgence in this respect.
Finally, in no way should the events, dates, people or descriptions be accepted as absolute or without flaw. Josiah himself writes that these are but recollections written to inform the future generations. The memories should serve to entertain, inform and incite the study of events and people of his time. To honor Josiah would be to enjoy his words.
8
---
Before, During and After
1861-1865
By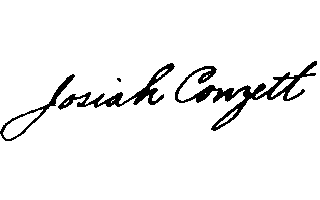 9
---
MEMOIRS
Our family on the father's side is of Italian decent. Our brother Jacob succeeded in tracing it back to the last days, or rather years, of the 14th century. And to a certain Professor (of what is not said) who signed himself Conzetto, who was either of Piedmont or Savoy - nothing further of particulars is given. The family was, however, known to belong to those true, sturdy and pious people known as Albignese who, refusing to acknowledge the Pope and His doctrine, were so many martyred and persecuted by His order, that they fled for safety to Switzerland. Our people seem to have fled to the Grisons, then a small but free and independent state, now a Canton of Switzerland. From these good, pious people we descend.
Our grandfather Conzett was born about the middle of the 18th century. Father said he was a large, strong man. He was a soldier during the French Revolution and later served under Louis Napoleon in Holland, where he was taken prisoner. He was a prisoner for 4 years in England. When he came home he was quite an old man. One winter day was found nearly frozen to death on the Alps. He died soon from its effect.
Of our grandmother, we know nothing. She was probably one of those strong healthy women that Switzerland is noted for. Father said she was a good, pious woman. We hope and believe she was all that. When she died, we do not know.
Our own father was an only child and, he said himself, a spoiled and wild one when a boy and young man. He was born in Schiers, Canton Grisons, Switzerland, June, 1811. They named him John Lucius. His parents were fairly well to do people. He inherited from them a good home and a well-stocked farm of cattle, goats and such. He tried to learn the shoemaker trade but never stuck to it. He married our mother in 1833. They had 6 children in all, 4 boys and 2 girls. He sold his home and emigrated to America in 1845. At first, for a year or two, his health here was bad. His money also went, and we were very poor. Up to within 20 years of his death he worked very hard. After that, as he and mother were all alone and they had a good home to live in and enough income to keep them
10
---
comfortable, he took it easier. His last days were happy and comfortable, we are glad to know. He died February 5, 1895. Old age was the cause and he just seemed to fall asleep, so easy did he pass away. He outlived his wife 7 years, and was like a lost child after her death.
Of our grandparents on our mother's side, we know very little. They were people in good circumstances, as wealth was there and then estimated. We are, for many very good reasons, lead to believe that for many centuries Switzerland had been their home. They were staunch Protestants of the Calvinistic Faith. Children they had six (6): five girls and one boy. He was an artist and well educated, but wild. He died quite young in Italy. Our mother, I think, was next to the oldest. She was born in Schiers, Canton Grisons, December 25, 1811. I don't think that she even had six months schooling, as she could not write at all. She, however, learned to read. For some reason she was the drudge, the Cinderella of the household, for all the other children were fairly well educated. As said in the lines on father, they were married in 1833. From that time on she shared father's life: good and bad. She was a good, true wife to him and worked with and for him for a number of dark days. Days of grief and tears for her. But she remained true and faithful. I will not speak any further of this. For 4 or 5 years she was the sole support of the family. Father, for several years, was so sick with fever and ague that he could not work. And for one long, cold winter (1848 & 49) he was up in the wilds of Minnesota getting out cedar rafts, and never got a cent for his work. Mother went out washing any day and all day. After Mary was born (Dec. 5, 1848), Dave would carry Mary up to where mother was working so she could feed her. Jake and Otto had work, but so little wages did they get (1.50 & 2.00 for a week), that it helped but little. But in a year or so after, the boys Jake, Otto and Dave got work, the first 2 at fairly good pay, and father also got steady work. As everything went better and easier after 1850, mother never went out to work any more. And when in 1850 they were able to buy the modest little home of 3 rooms on Iowa Street, they, father and mother, thought they needed nothing more. There were still some hard trials in store for her, but she fought them bravely and happily outlived them. Mother was a deeply religious woman. The Bible and the Church were her solace and comfort in many dark days. She lived to see all her children establish and with families of their own, grand &
11
---
great-grandchildren nestled in her arms. Her son's (David's) death in the Army in 1864 was the great grief of her old age. Old age, bronchitis, asthma and rheumatism were for years her enemy and at time she suffered greatly from them. So at last, one day March 5, 1888, in one of their attacks, she passed away to her reward in Heaven. She died as she lived: full of faith. So ended the life of a faithful wife and a loving mother, beloved and mourned by all that ever knew her.
I was born in Schiers, Canton Grisons, Switzerland, on the 22nd day of August 1841. My parents are spoken or written of in the first part of these memoirs, so I shall mention them no more, only to say that they were of the middle class, honest and God fearing Protestant people. The family in 1845 consisted of father, mother, four boys and one girl. They were, in regard to age: Jacob, Otto, David, Josiah and Mary. Mary died in Galena, Ill. in 1846, age 2 years. Father sold his home and property and, early in 1845, the family emigrated to America. I was then four years old, but I have a faint, indistinct recollection of the ship with its big white sails, the ocean and a few things that I was the chief actor in. Viz. One day I was seen sitting out on the very edge of the ship's bowsprit and was rescued by a sailor climbing out after me. At another time, while climbing up the ship's side, I fell, my leg coming down into a pot of boiling hot soup that one of the passengers was cooling for his dinner. They took me into the cabin and wrapped it up in tar and cotton. I presume the soup was spoiled for dinner. After a rather stormy voyage of 42 days, the good ship Pactola, landed us in New Orleans. (We sailed from Havre de Grass, France). We remained in New Orleans only a few days. We had such a fish diet there that mother ever afterward could not bear the smell or cook them. We then took a steamboat up the river to St. Louis, where we also stayed only a few days. Then once more up the Mississippi and the Fever River. We landed in Galena, Ill. some time early in the fall or late summer of 1845. Galena then was a busy, bustling town, the largest above St. Louis, Mo. The landing was crowded with steamers bringing goods and supplies of all kinds and taking on heavy cargoes of lead and furs. The lead was the largest part, for this section was then famous for its lead mines. At that time there were no railroads anywhere near and Chicago was only a mud hole. We rented and lived in a 2 story frame house at the foot of some hills. We occupied the
12
---
2nd floor. Here, shortly after our arrival, our little sister Mary died. Father started to work mining but, plenty as lead seemed for others, there was none for him. And he worked hard to find it, too. He had some money left, so we did not suffer here. Jacob and Otto first went to an English school, and in a short time mastered the English language. Now father was taken sick with the ague and could not get over it. So, hearing of the rich lead mines and the better prospects for work in Dubuque, Iowa, then a frontier town of 3 to 3500 inhabitants, father hired (I think) one team. We, one cold day March the 17th, arrived in the New Eldorado. We had to cross the river on the ice, which was yet solid. We were kindly received and entertained over night and the next day, by the Rev. Peter Flury and his English wife. He was stationed there as a missionary. The day after, father found and rented three rooms in a 2-story frame house on Main St. (west side) from a Mr. M. Schunk (father of Mayor Schunk). It was near where now stands a 3 story brick bldg., on the corner of 6th St. I remember while there Jake and Otto were sleeping in a a trundle bed one night and a rat nearly bit Jake's ear off. We did not remain there long. We moved into a 2 story frame house on the corner of 1st and Locust St. This, at that time, was one of the busiest parts of town. It was then, as yet, called Dublin. How long we stayed here, I don't remember. We moved again (I think) in the spring of 1847, just about one year after leaving Galena, Ill. (the 17th of March 1846). It was yet a territory. This time way up, and then on the upper end of town, and into a three-tenement frame house owned by John D. Bush (a pork packer). Here our sister Mary was born Dec. 3, 1848. We lived in the north part, Mr. M. Tschiggfrie in the center, and the Buchler family the south part. Mr. Tschiggfrie built a small brick house on the alley and commenced brewing beer, the first to do so in town. Above us was all vacant land. We lived here until sometime in 1850. Then father saved the money ($760 dollars) with which he bought a one-story frame house of three rooms on Iowa St. between 13th & 14th St. It was then way out of town and just one block below the cemetery.
I now started to school (German). An old and good man named Zanuck taught it. It was in a brick house, corner 6th & Clay. He died soon after. I then went to a school taught by Mr. Wullweber and his son Christian (afterwards lawyer to minister to Bogota). Here I learned to read and write German and also got a sound whipping for being naughty. We
13
---
were now doing fairly well & were happy. In this house I first met my little sweetheart, then 10 years old, Nell Vanderbie. By this time (in the years between 1850 & 1855) I was a pretty wild youngster, going to school when I was watched but often playing hooky. I was a circus actor and could tumble, jump and tear around with the best of them. Joe Tinkham was our tutor, and we really owned quite a large tent in which we gave performances on the ground now occupied by the City Hall. Tinkham afterwards became famous as an actor. In those days, lead was found easily on the surface of the hills and in the discarded dirt of the miners. I often made from 50¢ to 75¢ per day picking the mineral. I became an expert swimmer and skater and the leader in all the mischief of the smaller fry. I had earned a one-barrel shotgun by sawing wood and I went hunting on Saturdays. One day, I went hunting for snipe on the flats (where now stands St. Mary's Church, then a cornfield). I saw a quail sitting on a fence post. I crept up as near as I thought it safe. Then I banged away, but the bird was still there. I fired 3 or 4 times, but still the bird was there. On going there, I found it to be a very dead bird tied by string to the fence. I was up to all sorts of tricks and mischief. Pat Norton owned a long row of small frame bldgs., 7 or 8 of them. In one of them lived a French Canadian family. They had 4 or 5 boys and we were playmates. They got the small pox and were all broken out with it, but still they played around with us. We got into a fight one day and, when the scrap was over, I found my hand covered with matter. But none of us caught the disease.
The cemetery was a good hunting ground for quail up to 1854. It was full of large trees, and the grounds were as high as it is where the Sisters School now stands on 13th & Main St. So things went on. I had been a circus actor. One summer I was associated with Sam Patch (a fellow rascal) in charge of the public hog pen. We had lots of boys engaged to drive stray pigs for us. We paid them 10¢ per head, while Sam and I got 25¢ per head for them. I can't enumerate all the doings of us boys of those days, but I do know that the folks put an end to my hog pen speculations when they found it out. But we made money. Jack Burt (lawyer Burt's son) and I were quite chummy. He had a nice rifle, and one day we went out hunting in the hills for quail. We went up what is now west 14th St., then only a path, and over the hills and finally came out on the hill above Washington Park, at the head of 6th & 7th St. There was not, at that time (1854), even one house
14
---
anywhere on the hill. We had gotten no game, not a thing. So Jack proposed we shoot at each other's hats. Of course it was a go, and I went home without a hat and Jack's had not a hole in it. (I wonder where Jack is now?) Space will not in these memoirs permit me more of the early days in detail. I will relate them in my early recollections of Dubuque.
I was now 14 years old and, as there was an opening for an errand boy in the store of Barney Scott & Co. (in the Globe building on Main & 5th), I was put there Sept. 1, 1855. John and George G. Moser were clerks there then. It was a general store, everything was sold there. It was what department stores are now called. It was the largest and best in town. Mr.'s Sheffield and Scott were two young men from Utica, N.Y. They were not married. Mr. Barney was a fine young man from Vermont, also single. All hands slept in the store in those days, and we opened up for business at 7 AM and closed at 10 PM. Goods were sold on a years time and hardly any questions asked as to standing.
In the summer of 1856, Sands and Nathan's Large Circus was showing in town. One evening, W. E. Dickinson (now a dentist in Minneapolis) came to the store and told me the circus people wanted to see me right away. He said that Joe Tinkham was with them. Mr. Barney allowed me to go, but cautioned me very strongly against allowing myself to be talked into going with them. I promised to do so. When I got to the circus, they at once took me to the dressing tent and, in spite of my protest, put me into circus tights and dress. Then, with the rest of the acrobats and tumblers, I was sent into the ring, packed with thousands of people. It seemed to me every one of them said: "There is Joe Conzett!","There is Joe Conzett!"; everybody in town knew me at that time. I was scared as I never was before. After two appearances in the ring they finally let me go, and offered me a tempting salary to travel with them. But the sawdust ring had lost its charm for me, and I was glad to get away. My bosses congratulated me on the stand I had taken. For some time after, they made me show them my ability as an actor after the store had closed evenings.
One morning, I think it was in the spring of 1857, while out on the porch (which ran all along the back part of the Globe building and had a stairway leading down to 5th St.), I heard a shot ring out. Then I saw a crowd of people running down 5th St. I too ran down and, in front of the frame building on 5th St. right west of and near where now Hartig's General
15
---
Store is, the streets were packed with people. A tailor by the name of Gillick lived there, and he had shot his wife in one of his drunken fits. He used an old fashioned horse pistol he had brought with him from the Mexican War. She lived through the day and died in great agony. We could hear her scream a block away. (I will close the story of this tragedy here although it will bring this paper over a year in advance of the regular narrative.) Of course Gillick was at once arrested and sent to jail. He was tried, granted new trials until he had been in jail over a year, when he was at last condemned and sentenced to be hung. So, one warm day in the summer of 1858, he was hung. The display, parade and fuss made over his execution was really like a 4th of July parade or a street circus display. Jerry Cummings was then the Sheriff. When they took him out of the jail, Mrs. Cummings was leaning out of a window, crying as if her heart would break and waved him good-by. He, the Sheriff and a Catholic priest were with him. A long line of carriages followed behind, in which were the court officials and citizens. Following that was hundreds of people in line, 2 by 2. At the head of it was the Germanic Band (brass, Ferdinand Heeb was its leader), playing dirges; and one man was carrying a large Star Spangled Banner (think of it). The streets and house tops were lined and black with people anxious to see the procession and the condemned man. The gallows was erected out on Eagle Point near where the public school now stands. There was then not a house nearer than Ham's log house and very few nearer than on Eagle Point & Couler Ave; here and there was a stray shanty. It was over a mile from the jail, and was a sand desert. The bluffs near, and for as far as I could see, were black with people. They had come to town for miles from Wisconsin, Illinois, and our own farmers with their wives and children, there to see this tragedy. A fright farce, as we now see it. Well, on reaching the gallows, the Sheriff, priest and prisoner were soon on the scaffold and, after a short prayer by the priest, Gillick stepped on the trap. The noose was adjusted on his neck, the black cap drawn over his face. Then the sheriff cut loose the trap, and in 10 minutes, Gillick was in eternity. He was driven in an express wagon, the horse on a gallop, to the Catholic Cemetery on Third St. This was the last public execution in Dubuque county. The public revolted against any more such spectacles. I witnessed it all from jail to scaffold against Mr. Sheffield's advice, but I wanted to see a man hung.
16
---
And, it cost me a nice new pair of black broad cloth trousers. I split them across the knee in getting on a wagon to see the whole, or end, of it. The fashion at that time was to wear trousers so tight one had to almost be pulled into them, and mine could not stand the strain.
In December, 1856, I was taken very sick and had to go home. We were then living in Uncle Rudolph's house on the 2nd floor. Father had sold his house on Iowa St. to Bissell Moser & Co. for $2800. He bought a lot on Almond St., where the next summer he built a house. It was our home until mother died in 1888. I was very sick for a month or six weeks. We were all then yet living at home. Jacob was still studying for the ministry but about to graduate, Dave and Otto were working at the harness track for L. D. Randall & Co. On my recovery the folks sent me to school, to the Presbyterian College in West Dubuque, where now stands the Finley Hospital. Rev. John Bantley was our teacher in Latin and Greek and Godfrey Moery was my schoolmate. He and I were the janitors of our (the Blue) Church that winter. I attended that school just one term when, finding out that Rev. Mr. Van Vliet (our minister) and my folks were bent on making a preacher out of me, I revolted. I did not want to preach. So one day in the spring I brought my books home and told them I had quit school. They got so angry, they told me I could leave the house and get along as best I could. I took them at their word at once, and as the situation at the store was open for me, I went there at once. On telling Mr. Sheffield my tale, he told me they would give me $8 per month and board me at the Tremont House for this year, so I was in the store again. This was in the spring of 1857. I never lived home again until after the war. After the folks' anger had cooled off, mother tried to persuade me to live at home again, but I did not do it. Still, I took dinner with them on Sunday, I bought a carpet for their front room, (they were now living in their new home on Almond St.) and kept mama and Mary in clothes. In the fall of this year I was promoted to a full clerkship, with Matt Ploeckly taking my place as errand boy. My salary was now also increased. In the fall of 1858 the firm , now Sheffield & Scott, moved to a new two story building of three stores: occupied on the south by our firm, the center by L. W. Jackson and the north by Mudjet (?) and Whitney. All of them were now first class dry goods stores. The country style was now eliminated as the city was now putting on metropolitan airs. The entire 2nd story was occupied by a
17
---
Mr. White as a gambling den, run openly day and night and was a famous resort for years. This building stood on the ground now occupied by Levi's Dry Goods Palace. Among my fellow clerks of that day or time was P. W. Skemp, J. C. Anderson and C. S. Keller; the last two going to Pikes Peak on the outbreak of the Gold Fever in 1859. In that year, I was one of the crowd that chartered the ferry boat Peorstu (?) to go to Galena, Ill. to hear Lincoln and Douglas speak. I did see them, but did not hear them. The crowd was so great I could not get near enough, so I climbed a tree and so saw them. And I am now proud to say that I saw that great and good man Abraham Lincoln.
So passed the years of 1858 and 1859. We all slept in the store in those days. I spent most of my evenings in the store reading, of which I was always fond. I loved history and historical works, some of which I still yet have.
The year of 1860, the presidential election came on and was an eventful year. Lincoln and Hamlin were the Republican Candidates. The Wide Awakes, with their torches and capes, marched through the streets with torches a-blaze, singing patriotic songs and creating intense excitement. Of course, I was one of the loyal marchers. Oh, "those never to be forgotten days". Well Lincoln and Hamlin were elected. The South seceded. Fort Sumter was bombarded and captured in April, 1861. The Civil War was now a fearful reality. My brother David went out in the first call for troops. He enlisted in the Jackson Guards, one of the companies of the immortal 1st Iowa Infantry, who, at the Battle of Wilson's Creek Mo., so greatly distinguished themselves and at whose head the gallant General Lyon lost his life. Who that saw the home coming of those brave boys of the Gov. Greys and the Jackson Guards will ever forget it? With banners waving, arms at right shoulder, the bronzed heroes came proudly marching up on Main St. amidst the hussahs of the thousands lining the streets, the girls entwining their heads & shoulders with garlands. The town was all theirs. And how us boys envied them, and then & there vowed to be soldier boys!
So one day in August, 1861, Chas. Weigel and Geo. Healey came to the store and bought some red flannel for shirts. They told me they had enlisted with Capt. Schaeffer , who was getting up a company for Fremont's Hussars, and they asked me to go along. I told them I would let them know
18
---
soon. So at dinner time I went to see C. A. Gilliam. He was one of my boyhood playmates and was then clerking for Mr. Henion in his grocery store on Main, between 7th & 8th St. I told him of Weigel & Healey and asked him if he would enlist if I would. He said "Joe, come in on your way back from dinner and I will let you know." I did so, and the upshot of it all was that, without farther delay, we went to the recruiting office and enlisted for three years with Fremont's Hussars. My employers were surprised and tried hard keep me home by offering me better pay &c, but I had made up my mind to be a soldier and told them so. They then paid me all my due in gold, some $300, all but $50 of which I gave to mother. All the folks objected to my going very hard, but it now had to be. So on the 1st of September, 1861, we marched to the landing followed by our weeping mothers and a host of friends. We boarded the steamer, and two days after we landed in St. Louis, Mo. We were at once marched out to Camp Asboth, two miles out on the Rollo Turnpike. Here we found the first arrivals of our company, and here we were introduced to our first taste of soldier life and fare: boiled beef, cabbage soup (full of flies) on tin plates & tin cup, our first dinner. Bare boards with one blanket for our bed. Tough as it was, we many times after in the years of our service longed for such a dinner. Our service as Fremont Hussars was very brief. He was relieved of his command. We were then, with troops from different states, formed into a regiment and were known as Curtis Horse Cavalry. Very soon after we were taken to Benton Barracks where, with fully 30,000 other brave boys, we were now put in trim to prepare us as real soldiers. Drill, drill, morning, noon and night was the order of the day. Our Col. was W. W. Lowe, a regular Army Capt., M. T. Patrick of Omaha was our Lieut. Col. We had 3 Majors: Schaeffer, Hoolan & Brackett; also 3 Adjutants: Edwards, Aston and (blank), and a full non-comm. staff. There were 12 companies of 100 men rank & file: A, B. C & D from Neb., E, F, & H from Iowa, G, K & I from Minnesota and L & M from Missouri. We were now in good form, well officered, but poorly armed with carbines. We now felt ready to face the foe. But we still needed more preparation, especially in drill on horseback & saber drill, and especially with carbine and revolver target shooting. It was hard on us boys not used to horseback riding. We were sore for many days after, but finally got used to it. We were known as Curtis Horse until 1862 when, by order of the War Dept., we became the 5th Iowa Cavalry. The
19
---
regiment was consolidated and reorganized. Only one Major and one Adjutant for the regiment was allowed from this time on. Maj. Schaeffer remained our Major, but Adj. Edwards was mustered out of service and went home. On the reorganization of the regiment, the companies were also reorganized. Our company was organized as follows:
Co. E
Captain Chas. C. Nott of New York City, N.Y.
1st Lieutenant M. M. Wheeler of Dubuque, Iowa
2nd " Levi Moreing of Dubuque, Iowa
1st Sgt. Andrew Guler of Jamestown, Wis.
QM Sgt. Josiah Conzett of Dubuque, Iowa
5 Duty Sgts. (names omitted)
8 Corporals (several blanks)
Farrier
Blacksmith Jas. Desmond of Dubuque, Iowa
Saddler Sgt. John Brainard of Wyoming
Teamsters Jacob Cash St. Louis, Mo.
" Oscar Martin Iowa
Capt. Nott was, or had been, Trustee of public schools of N.Y. City. He was well acquainted with President Lincoln. He was a tall, fine, soldierly looking, highly educated, Christian gentleman; easily the peer of any officer or soldier in the regiment. How it ever happened that he came to our regiment and company, I always wondered at but never found out. However, as this story will show, he was before long filling a higher position. It was he to whom I was indebted for my promotion, as surprising to me as it was astonishing to my comrades of the company. Now we were drilled and drilled. On horseback and on foot, with swords and pistols; until the officers felt sure we could hit a barn door with a carbine or pistol from ten paces off. And to stick a pig with our swords, so we could at least disable and catch it. The first carbine we had was an old blunderbuss that we were afraid of to either load or shoot. It was more dangerous to the one behind it than the one in front of it, and that thing we had to carry for 6
20
---
months after we got to the front. About the first days of February, we were ordered to the front.
We went by steamboat down the Mississippi to Cairo, up the Ohio to Paducah, Ky., then up the Tennessee to Fort Henry. We were within 12 miles of Fort Donelson and its 20,000 Rebels, so at last we are in the midst of war and its dangers. But, more of mud and typhoid fever than bullets. Our first camp we named Camp Mud, and it was not misnamed, for both horse and man sank up to their knees in it after being on it 2 or 3 hours. In a day or two, we could hardly find a spot dry enough to build a fire or to cook our already scant rations. There were 25 or 30,000 troops here, and near here, and Gen. Grant was preparing to move onto Ft. Donelson. He did so very soon after, and in 3 days captured it. I will not try to describe it, as every school history book does it better than I can. Our Captain was the only one of the company in it, he had been detained at St. Louis on a Court Martial when we left. He came to Ft. Donelson with Col. Shaw of the 14th Iowa and was with them throughout the battle. We were in sight and hearing of the battle, but not in it or any particular danger except from stray shells or bullets. The regiment was on the courier line carrying dispatches from the field to Grant's headquarters. I now began to think soldiering was not half as romantic as it had looked to me in Dubuque, and I and the rest often sighed for a meal as good and plenty as our first one at Camp Asboth. But we were in for it and made the best of it, but we were sorry we had come. While yet at Camp Mud, Privates Henry Pfotzer and Henry Bertsch rode out into the country a few miles to forage around for anything they could find to eat. They went out without any pass or permission. In going out in the morning, they crossed an insignificant creek, hardly knee deep. It rained all day so, when they came in the evening, it was a raging torrent. They had to get back to sneak in before roll call to avoid severe punishment, so they undertook to cross it. But, alas! Poor Henry Bertsch never got to shore alive. His horse went under and he with it. Pfotzer had a large powerful horse that took him across in safety. The next morning we found Henry's body. We put it into a pine box, the best we could do, and poor Henry laid in front of my tent all that day and night in a drenching rain. This was our first death at the front. Henry Pfotzer was tied up by his thumbs for several hours for going out without a pass. He was discharged for disability a short
21
---
time afterward. How sick or how disabled he was we never knew or cared, as no one was especially sorry to see him go.
My duties of Quartermaster Sgt. were no joke now. It kept me in the saddle all day riding through the mud, slush and rain and fighting the regimental QM Sgt. for rations and clothing for the men and grain and hay for the horses; then have another squabble with the men in dividing the rations. It was no easy matter to divide one ham amongst 75 to 85 men in equal parts so that no one would get a bone, but that and other impossible things they expected me to do. But I was never called down, as they say, by my superiors and I got the compliment of being the best company QM Sgt. in the regiment.
At last a better camp was selected for us on higher ground in a nice grove of large trees. We called it Camp Dry. From here scouting parties were sent out every day as guerrillas were bothering us considerably. On one of these scouts, one of the companies of the 1st Battalion ran into an ambush and got badly punished for it. This was early in March, 1862. Grant, with his army, was still here. He was now preparing to move up to Corinth, Miss., where the Rebels were gathering in large numbers under Albert Sidney Johnston and Gen. Beauregard as second in command. They were regarded as the two ablest generals the Rebels had. Lee and Stonewall Jackson had not yet gotten the reputation they afterward gained. A few days after we got settled in Camp Dry, hardship and exposure at last got the better of me and I got too sick for any duty. Our doctor dosed me with calomel and blue (?) mass until every tooth in my head rattled like a lot of dry bones. I had a raging fever. At last the seriousness of my sickness was seen, and I was ordered to the hospital. My brother David carried me down to the hospital boat on his back along with 2 of my blankets. The steamer was crowded with the sick and wounded. They were wounded at the Battle of Fort Donelson and had lain around all this time since. David took me up into the cabin and, so crowded was it, that he could hardly find room for me on the floor. He spread my blankets on the floor for me, made me as comfortable as possible, then bade me a tearful farewell. Poor brother, he never expected to see me again. One of our boys, Andrew Meiser, was also here going to the hospital. I could not help wondering what for, and how a sick man could eat so much as he did. He was noted for his miserly habits. He drew but one whole suit of clothes during the
22
---
entire four years, and the fatigue cap he drew at Camp Asboth he still had when we were all discharged. How many days we were on the boat I have no recollection of, as I was in a delirious condition most of the time. At last we arrived at Evansville, Indiana where a new hospital had just been opened. My comrade Meiser took me and my blankets on his back and carried me up to the hospital, where I was soon in a clean bed, but oblivious to all my surroundings.
(Page 5 in the Ledger is a repeat of the tale about the two who went foraging for food when the regiment was at Camp Mud.)
When I arrived at the hospital, I became unconscious and remained so for several days. When I came to, I found myself under the hands and in the care of two ladies, not nurses, but visitors greatly interested in all the sick and wounded boys in blue. They were a mother and her daughter. The daughter was the wife of a gunboat captain. They, it seems, had asked the hospital authorities to take me to their home and take care of me there. But as that was against the regulations, it could not be. So they received permission to care for me there. From that time, until I left the hospital, they took sole charge of me and, under providence to them and their care, I am my own self. While life lasts, I shall never forget them. To my great regret I have forgotten their name, but their memory will abide with me forever. On my return to the regiment I had to report myself to the hospital. I then called at the home of these dear friends. They received me with open arms as one risen from the dead, for no one ever expected that I would ever recover. I spent the day and that night with them. Had I been their son they could not have been kinder or more loving to me. So, the next the morning I bid them farewell and since then I have not seen or heard from them. No doubt they have long since gone to their reward, and I cherish the hope of again meeting them in that better world beyond the grave.
I was in the hospital 5 or 6 weeks. About a week or ten (10) days after being there, I noticed that the doctor did not prescribe medicine for me anymore. When I asked the hospital steward why he did not give me anymore medicine, he evaded the question in some way. So did the ladies that took care of me, and I saw tears running down their dear faces when I asked them. I then felt that something they did not want to tell me was the
23
---
matter, so the next day, when the doctor (Terry) came around, I asked him right out what the matter was. He then told me that he was afraid I had not very many days to live and so did not want to worry me with medicine that did me no good. He told me I had better have someone write to my folks, wherever they were, and tell them of my condition. I took no stock in what he said, for I felt sure I would get well. But the young lady said she would be glad to write and she did so at once. She wept all the time she wrote it and I made fun of her. She wrote to father. I told her to tell them to send me some money, as I did not like them (the ladies) to spend their money for dainties that they had sent out and got for me. Well, in a week or so, a letter came to me from my former employers Sheffield & Scott (written by Mr. Scott). They enclosed a $5 bill saying, with other good and dear words to me, that when assured that this was me and I received the money, more would be sent and everything that it was possible to do for me would be done. I can even now tell how good I felt over that letter and how it cheered me up. I still have the letter (June 7, 1909) and it is one of my cherished treasures (Mr. Scott having passed away.) A few days after receipt of the letter, I was made very happy by seeing my dear brother Jake walk into the ward. Language can't express the feelings and the joy of that moment and time, so I will not try. Oh, it seemed so good to see some dear face from home! Well, furloughs were hard to get at that time, for every man was needed at the front as soon as he could stand. But, by persistent effort and cooperation of the doctor, I finally got a 30 day furlough. Jake at once took me to a hotel and, the next morning, boarded a steamboat. The doctor had told him that the only show of getting me home alive was to take me all the way home by boat: down the Ohio and up the Mississippi (about 800 miles) to Dubuque, which could take about a week or more. When we arrived at Cairo, I was so tired I begged my brother to take me the rest of the way by railroad, which he finally consented to do. We had to wait until the next morning for the train, so we went to a hotel to wait. I remember the town was so overflowed, the Ohio being so high, that we had to go to the hotel in a boat. And such a dirty hole I never saw. I amused myself by spending the long hours killing bed bugs on the wall from my bed. The walls looked like a miniature battlefield when we left. Early the next morning we took the train (ICRR). Everybody on the train was very kind to me. The ladies especially did everything possible to
24
---
make me comfortable. A soldier in those days was of some consequence, and were toddied and feted to their hearts content. Well, early the following day, we arrived in Dunleith (now East Dubuque). I remember Capt. Gates of the ferry company was at the train, and he took me in his arms and carried me to the boat, laying me down on his bunk in his cabin. Well, we landed in Dubuque and, in about 30 minutes, I was at the dear old family home on Almond St. My dear old father and mother were hovering over me and doing all that love could in any way suggest for my comfort. Oh, how good it felt to see all the dear old faces once more! The first thing they did was to send for our old family doctor (Thooman). He quickly told them that I needed no medicine, I had too much in me now. He told mother to feed me on oysters, chicken soup &c, and she did the thing up brown as only a dear good old mother can. In about 10 days I was up and around hobbling on a cane. All my friends came to see me, and whenever I went downtown I had a reception at every corner. I was the attraction, a regular circus for the time. It was thought I could not go back to the regiment when my 30 days were up, so they applied for and I was granted 30 days more. But just then, news came that the 5th Iowa (my regiment) had been all cut up & captured in a fight in Tennessee. (It was, as first reports generally are, greatly exaggerated.) This news so excited me that, although my first 30 days were not yet up and my extra 30 days were at hand, I determined I was to start for the front at once. This was in spite of the remonstrations of the doctor and all my friends, and even the news that my sweetheart, dear Nellie Vanderbie, was on her way from Platteville could not detain me.
So, the next day I started off. The day following, I reported in to the hospital at Evansville, Indiana, as ready for duty and for transportation to the regiment, wherever it was. Dr. Terry was greatly surprised; he never expected to see me again and, at best, not for a long time. I then called on my dear lady friends that so faithfully cared for me while in the hospital. They too were so surprised, but just as glad to see me. I had to spend the day and night with them. The next morning I boarded the steamer for the front. I remember that Governor Morton, the War Gov. of Indiana, and his staff were on board to visit the troops from Indiana, and see to their sick & wounded after the terrible 2 day Battle of Shilo on the 16th & 17th of April. (I should have stated that the fight of our regiment that hurried me to the front took place the 5th day of May, 1862 and I left Dubuque 3 or 4
25
---
days later.) Well, we went down the Ohio and reached Paducah, Ky. the next day, where as good luck for me, the steamer that our Col. made his headquarters on was in getting supplies. So I boarded her and heard from the boys that were aboard all the particulars of the late fight. It seems our battalion's Co. E, F, G & H, under Maj. Schaeffer, had been ordered on a scout from their then Camp Lowe to Paris, Tennessee. They arrived at Paris, and there heard rumors that large bodies of Rebels marched in the vicinity. The Major thought it only a bluff, so kept on. The next day, position information reached him that the Rebel King, with a large force of troops, was between him & the camp on the Tennessee River, that they were now at Paris heading for Paducah to capture it, had heard of him & his command and was going to gobble him up by the way. So the only thing he could do was to try & reach Paducah first. On the afternoon of the 5th of May, our troops reached the Obion River, a small, sluggish, swampy river, which had a rickety cordwood bridge over it. They should have crossed the bridge & destroyed it, then they could have had time to escape. But the Major saw a fine house with some nice looking women on the porch on this side of the stream. (The Maj. was a great gallant where fine ladies were concerned.) So, instead of crossing as he should have done, he gave orders for a short halt to give the men a chance to make a cup of coffee and a little feed, rest and rubdown for the horses. He himself went up to the house and, no doubt, was also refreshed there for the short time he had. Alas, the poor Major. This imprudence & carelessness cost him his life. For refusing to surrender, he was shot dead on the porch. Well, the men had hardly gotten the saddles off their horses, and no time to get coffee (for the horse was always first to a Cavalry man), when the pickets (and a riderless horse) came rushing down the road shouting "Saddle up! Saddle up! The Rebs are coming!", and right behind them could be seen a dense mass of Rebels coming on the run with their loud Rebel yells. Now all was confusion. No time to form ranks & show fight, although our Capt. Nott tried hard to do so, but he was overwhelmed by the rush and it was everyone for themselves. Our men and the Rebels, jammed together and all mixed up, rushed on and over the bridge. In the meantime, the Major had been killed, and also Private Kurtzman of our company, a number wounded, and about 1/8 of the company captured. Amongst the badly hurt was our Capt. Nott, his horse threw him breaking his shoulder bone. He managed to crawl into the woods
26
---
& waited until the Rebs all passed by, then, hiding his much prized saber (a gift from his N.Y. school), he wandered around in the woods until he found some staunch union people who took him in and cared for him. Finally, after many trials, much suffering and often in great danger, they brought him to Paducah where friends found him and took him home to New York. This was his last as an officer of the 5th Iowa; he was soon commissioned as Col. of the 176th N.Y. Infantry. He came to us in the fall of 1862 to bid us good-by and to try & recover his saber, which he did. He took our company over the same route and, to his great delight, found it under the log he put it on that fatal day. Well, he left us, and the regiment lost its best soldier, manliest man, and Co. E the only good Captain it ever had.
On this disastrous scout fully one third of the entire command was killed, wounded and captured. Among the captured were Capt. Von Minden of Co. F, Lieut. Van Vredenburgh our Regimental Quartermaster and my brother, David. The captured were taken to Jackson, Mississippi and, after 3 months captivity, were finally exchanged by arrangement of Gen. Halleck and Rebel Gen. Bragg. Our boys were kept as prisoners in the rear of the Rebel army during the 3 days of the Battle of Shilo. They were then sent down the river (Tennessee) and joined the regiment early in the fall. We were then stationed at Ft. Heiman, Kentucky, having been ordered there from Ft. Henry, which was right on the opposite side, across the river. The regiment moved over very shortly after I was sent to the hospital. I can well remember the day the boys joined us again. We were nearly all on the river bank to receive them, and oh, what a dirty, ragged set they were! Covered with grey backs & other vermin from head to foot, we soon had them cleaned up and rigged out in new & clean clothes. Oh, how glad they were! I will close this account of their, or my, coming back, the scout and their return from captivity with an account of their inhuman treatment by Gen. Halleck.
The boys, when exchanged, thought each of them should have a certificate or some paper showing that they were properly exchanged, regardless of the fact that the exchange had been published & made public at the headquarters of our army & the Rebel army. They could not understand it, and feared to go back to duty without such an certificate being furnished them, as they would be treated as spies & shot if ever the Rebels captured them again. Of course the boys were in the wrong, as they
27
---
had been properly & legally exchanged. It should have been more plainly & kindly explained to them, which was not done, but instead they were harshly told to go back to duty at once or to take the consequences. A few returned to duty, among which was our Lieut. Andrew Guler (then our 1st Sgt., whom I forgot to mention as one of the captured), and my brother David, whom I with great difficulty finally persuaded to go back to duty. He wanted to stick to the boys. The rest obstinately refused, and so were put under guard and made to do all the hard and dirty work for the entire camp & regiment. They were under arrest and in that cruel condition for several weeks, when orders from Halleck came to dishonorably discharge them without pay and to drum them out of camp. I can even now recall and remember the sad spectacle. It was on a bleak, cold day late in the fall of 1862. The regiment was ordered out in battle line under arms and in full uniform. The prisoners (25 to 30, I think, poor boys) were then placed in line in front of us. The Adjutant then stepped to the front and, in a trembling voice, read Gen. Halleck's cruel order to them. The order was then given them to about face, forward march. The drum corps played the Rogues March and so escorted them out beyond our lines into the Rebel country, infested by guerrillas, robbers and scoundrels and deserters from both sides who would not hesitate to rob and kill them on sight. They were forbidden to come into our lines anywhere for help. Oh, it was the saddest sight and hardest duty we were ever called to perform! We were not ashamed to let our tears flow freely. They all got home safely, but to us it was a miracle how they escaped all the dangers they had to overcome.
I will now go on and relate the happenings on my arrival to the regiment. I found them in a disorganized state and panic on the banks of the Little Sandy River, on the west side of the Tennessee River, about 10 miles above Ft. Heiman. A large force of Rebels were in the vicinity somewhere, and an attack was feared at any time. As we were the only troops within 50 or 60 miles and we were only about ½ a regiment of 6 or 700 strong, our chance to be killed or captured was very good. We were then armed with the Sharps carbine, Navy revolver & saber, and had as artillery, one antiquated 8 pound gun. We were greatly relieved in the afternoon to see a steamer coming up the river loaded with troops. They were the 4th Minnesota, just from home on their way to the front. Our Colonel halted them, and they and our regiment at once marched out to find
28
---
the Johnnies. We went 10 or 12 miles, but the Rebs had gone. The scare was over and we marched back and the Minnesota boys went aboard their steamer and left us. They were a new regiment, just from Ft. Snelling, and a fine looking lot of men. But like all new troops, they were loaded down with steel lined vest, dainties, extra clothing, blankets, boots &c, the most of which they discarded on our 10 mile tramp that day in search of the Rebs. They said it was an outrage to force them out on an extra march. I guess they soon learned that march was but a picnic.
The next day we went down to Ft. Heiman and camped on the high bluff overlooking the Tennessee for miles up and down. Also, Ft. Henry was right opposite, across the river. We camped there all that summer in peace & quiet, with plenty of grub and lots of time. Our time was spent scouting after guerrillas and skirmishing with them about every week or so, but no serious trouble occurred to us this summer. I must here relate a very trying thing that happened to one of the boys of our company: William Morgan of Dubuque, one of our good boys. Our Col. was anxious to organize a brass band, as we had only fife & drums. As Billy was a fine musician, he was detailed from the Co. to join the band. But he flatly refused to do it. He said he enlisted as a soldier, not a musician, and told them he would not play in the band. They tried hard to induce him to play, but he just stubbornly refused to do it. So they arrested him, took him to the point of the bluff and tied him to the wheels of the cannon by hands & feet, outstretched as far as they could. It was a hot day, with a little shower off and on, the mosquitoes were thick & bad and they settled on his hands & face in swarms all day. No one was allowed to go near or help him. There he stood all day, and what he suffered can hardly be told. When he was released, he was a sight to behold. His face was so swollen he could not see, and his hands & feet were twice their usual size. It was a cruel and unwarranted punishment. I think the officers responsible for it realized it, and feared the consequences if it got beyond the command. Especially so the Sgt. Maj. (believed to be Joseph Buck, age 36), a man that had been an officer in the German Army, to whom in their army Privates were only dumb brats. It was he who suggested that mode of punishment and carried it out. He resigned and left the army very soon after. Well for him that he did. The entire regiment was disgusted over it and in a very serious mood. I doubt if he ever would have come out of the first fight after it alive, and he knew it, feared it, and so left. But
29
---
Billy carried his point. He was never asked to join the band again, but he would not re-enlist with the regiment in 1864. He had enough, and who could blame him? One more incident occurred while in camp there. Ludicrous as it was, and serious as it might have been, brother Dave was our Co. Saddler and so had a separate tent for a work shop. One hot afternoon, he had occasion to go out, so he stuck his round knife (which was as sharp as a razor) on a low box that he used as his tool chest, on its edge. He came back in a short time and, without looking or thinking of his knife, he sat right down on it. Of course, he lost no time in getting up and, grabbing the seat of his trousers, he made for the hospital as fast as his legs could take him. The hospital was fortunately only 2 or 3 hundred yards away. They dressed his wound which, fortunately, was only a flesh one, but deep. It touched no large veins, so the next day he was out and, beyond being a little sore & stiff, he felt no bad effects from it. I happened to be near and saw it when he rushed from his tent and wondered what it was, so I followed him up and soon learned what his hurry was about. I was greatly relieved to learn that the thing was not dangerous or serious. Poor Dave, he was one of the unfortunate ones that was destined to find a soldier's grave in the South. A braver soldier never lived. I begged him to stay at home when he came home from his 3 months service. He was a member of the Dubuque/Jackson Guards. That was part of the famous 1st Iowa that Gen. Lyon led in the charge against the Rebels at the Battle of Springfield, Mo. on August 10th, 1861, and at whose front the general was killed. But Dave could not rest at home, so he came down and joined us while we were yet at Camp Asboth, St. Louis, Mo. In the fall of the year (1862), we moved our camp down on the flats, on the bank of the river, and established a permanent camp. We had a fine camp laid out in regular city style: wide streets between each company and a wider street at the head, on the other side in beautiful order the field and staff, and below it the company commissioned officers were located. It was a fine street for our parade & reviews. The whole regiment of 12 companies were quartered in log houses, which we jayhawked out in the country. They were vacant, as all the people had left in haste on the approach of our troops. Poor folks, when they finally came back, they found their homes had vamoosed. They no doubt came and got them again after we left, for we left them standing. We did not destroy them, as was the usual case. Well, it was a fine camp,
30
---
the largest and best looking town within 25 miles in either Kentucky or Tennessee, and we never had or saw its like again. We remained there until the summer of 1863. Our Col. was, at this time, in command of Ft. Henry, Ft. Heiman & Ft. Donelson. He had a brigade of troops under him and made his headquarters on a fine steamboat on our side of the Tennessee River. He used it to bring up supplies for us and the rest of the brigade. While there, we always had plenty and enough spare to trade off for pans, pots & kettles at a little country town 8 miles from camp in Kentucky called Concord. There was a so-called hotel there, the only waiter of which was a quite good looking young girl. At least to us at that time. Women were scarce around there at that time, and anything in petticoats was sure to be the center of attraction, no matter much as to age or looks. She had the typical walk of the southern country girl, as if her feet were cradles, and no doubt dipped snuff, chewed & smoked tobacco as most of them did, although we never saw her do it. We often rode out there and traded off our spare coffee to her or the land lady for one of their dinners. Coffee to them was a great and rare luxury, and we could always be sure of a good welcome and get most anything they had for a pound or two of it. She was, it must be confessed, a greater attraction then the dinner. There were a couple of other families 5 or 6 miles down from camp that we frequently went to see. The nearest one was a widow with two grown daughters, and a son 20 or 22 years old. They were the typical poor white trash and oh, so poor, so homely and so ignorant. The old lady was anywhere from 75 to a hundred years old, squint eyed, skin like parchment and hands like claws. The girls were anywhere from 25 to 40 years old, and no great improvement as to looks or actions. We never made long calls there but, out of pity for their forlorn condition, frequently gave them coffee and hard tack or bacon. Their son Jack came down to camp often. We grew to like him. When we left that part of the country, he enlisted in our company & made a good soldier. Poor Jack, when we returned from our reenlistment in March, 1864 he joined us in Camp Patrick, Nashville, Tennessee and, shortly before the regiment left for the front, he was taken down with the small pox and died. It was a truly pathetic case. I doubt if his poor people ever knew what became of him. Their name was Turner. The other family consisted of an old grandfather, mother and daughter. Their names I have forgotten, but I still distinctly remember them,
31
---
how they looked, their home, their surroundings and the general look of things. It was a dreary, sterile, godforsaken country, hardly any roadway, surrounded by brush & scrub trees. It seemed impossible to raise enough there to feed hogs on. They were, however, superior in looks and condition to the Turners. They appeared well fed and clothed and had some education. The old man said he was a soldier of the War 1812, served under Gen. Jackson and he could never talk enough about him. The lady was a widow. More probably her husband was a Rebel soldier. The daughter was a short, stubby, fat, rosy cheeked girl, well dressed for the time and place. She was polite and friendly. We named her Dutch Pony. Here we were always welcome, had many a good meal, and several times spent the night. We never, in any way, abused their hospitality or kindness and paid them always for what we ate or they had to sell us in vegetables, so much needed in camp. These are about all the near neighbors we had at Ft. Heiman, except for Peggy and her dirty, dissolute girls on the hill about one mile from camp. When we left St. Louis in 1862, we had with us a young Negro boy named Ned. About 10 or 11 years old, he was a cussing, sprightly boy and a general favorite with all. He went through the whole 4 years with us, only to die at the end of it at Edgefield, Tennessee. He had been ailing for some time. One afternoon, I saw him in his tent, which was right in back of mine, playing cards with another young Negro. He seemed cheerful and about as usual. I was gone perhaps an hour or two and, looking in his tent, I saw him stretched out stark and stiff on his bed stone bench. He must have had a stroke of some kind and died very suddenly. We buried him on the banks of the Cumberland River where he awaits the final call. And black Mary, she disappeared somehow when we left Fort Heiman. She was as black as the ace of spades, jolly full of fun and the best of cooks. She would do anything for the boys at any time and place, even to share her bunk with any that asked the favor. And I am sorry to have to say that not only the privates, but lots of the officers took advantage of her good nature & will in that way. But, she was a jolly good fellow & a great favorite.
The summer and fall were passed by scouting around the country within a radius of 100 miles in all directions on both sides of the Tennessee River. We were fighting and skirmishing and trying to rid that section of the rear of our
32
---
main army under General Grant from the guerrillas and bushwhackers that infested it. They greatly hampered the troops in capturing supply trains, burning bridges, tearing up railroads and capturing forage trains and their small escorts. It kept the regiment, by turns of 3 or 4 companies, in the saddle most of the time. But we preferred that to loafing around in camp. During the summer (I think it was August), we went over to Fort Donelson, crossed or forded the Cumberland and advanced to Clarksville, Tennessee. We had several skirmishes with the Rebs on the way there. In one of these, Martin Schliecher of our company, we being the advance guard that day, had his horse killed under him by the Rebs laying in ambush. That is where our Lieut. Levi Moreing first showed his cowardice. Instead of sending a messenger back to the main command with the notice and further orders, he galloped back in hot haste himself and left us standing there without any commissioned officer. But that was not the only or last time he showed the white feather, and it is surprising he was not Court Martialed and sent home in disgrace long before the war ended. He was an arrant coward. Well, we got into the town and we found it a very pretty townon the Cumberland. It was a town of 5 or 6 thousand people when they were at home, but probably not much over half that now as the men were about all in the Rebel army. Those that were there kept out of sight. The woman and girls did not take to us very kindly. They obstinately refused to flirt with us, which we all were so willing to do, nor did they get up any parties or dances for us or even invite any of us to dinner. The last, however, we attended to ourselves. At dinner time, we went into the first house any of us came to on our tour of inspection of the stores in the city, and sat down at the table with them. Of course, they raised no objection, but how welcome we were and what they thought of us their faces plainly showed. Strict orders were issued against any wanton or personal outrages, and on that score no complaints were made. But otherwise, we went on the principle "to the victor belong the spoils", so we went into the stores, closed or open (but mostly closed tight), and helped ourselves to anything we wanted. I remember my brother came to camp with a pair of shoes (2 pair I think) wrapped up in 4 or 5 yds. of fine black silk, and that is only a faint showing of what the good people of Clarksville, Tennessee contributed to the comfort of the 5th Iowa Cavalry. After we left, the paper was mean enough to call us the 5th Iowa Jayhawkers and Thieves and some other choice names. We never
33
---
were very popular around there after that. But we got back to camp without any loss except for a few horses and some dart wounds from Cupid's bows, but these were neither deep nor dangerous.
Here comes in right handy the inkling of a loss to me that I felt keenly all through the rest of the war. When we drew our horses at Camp Asboth in Sept., 1861, Maj. Schaeffer (at that time our Captain), pointed out to me a fine little horse, black as midnight with only a white star in his forehead , a beautiful head and clean limbed. In every respect a black beauty. On the trip to Clarksville one day, our head surgeon Dr. Lowe, father of our Col., rode up to me and asked me if I would like to change horses with him. He rode a really fine bay mare. I declined, telling him that I was very fond of my horse and also valued it highly as being a sort of a present to me from Maj. Schaeffer. He rode on and I never heard anymore about it. A short time after that we were paid off, so Sgt. Ende and myself got a pass for a 10 day outing to Paducah, Ky. That is where, by the way, we had so good a time that we came near being run in to the guard house by the Provost guard for being out too late, and then sent back to the regiment in disgrace. However, by running and dodging through alleys and around corners, we escaped them and got back to our boarding house. We were more careful after that. We stayed out our time, got back to camp on time and in good shape, well satisfied with our trip & experience. Well, on reaching camp, I found my horse Johnnie gone. On asking how it came to be, when he was in the stable and there was a stable guard day & night, they said the stable guard was asleep and the horse stolen by someone during that time. But the guard was never punished for it, nor could I find out who the guard was at that time. Just at that time, it did not come to me how irrational the cause or excuse was. Later on it came to me, and it was plain enough. However, it was suggested to go out in the country to look for him , so the Col. gave me a 3 days pass for myself & 2 men. So one morning I took Tom Allen and (blank). We scoured the country around for 50 miles or more. We were out 3 days & 2 nights, sleeping and eating in any house we came to, when eating & sleeping time came around, and standing guard by turns. The country was full of guerrillas and it is a great wonder we were not killed or captured. We got safely back to the camp, but without my Johnnie horse. I found out soon after that by the connivance of Lieut. Moreing, he had been shipped to
34
---
Omaha to Dr. Lowe. I could do nothing, being only a non-comm., so I had to grin & bear it. But I never got another like him, and I never forgot him.
In the fall our regiment went on a scout up along the Tennessee, the Rebs around there were getting pretty thick & bold. We came across them one morning, but as they were on the other side of the river, we could only skirmish with them at that distance. As the river was not fordable anywhere near there, I was detailed with 10 or 15 men of our company to go back to camp and bring up one of our 8 pounders & other ammunition. We started about 4 a.m. and got to camp at sundown (about 7 p.m.). The distance was fully 100 miles the way we had to go. We got back to the fighting lines in good time. When the Rebs heard and saw our gun, they soon left, and we went back to camp. It was on that day that Billy Shankland sank down with a hemorrhage of the lungs. He was taken to camp in an ambulance his father telegraphed for. His father came in a few days and took him home where he died soon after. Billy was a nice boy and a favorite in the company, but an inveterate smoker.
In the fall, I think October, the Battle of Perryville in Ky. took place between our forces under Buell and the Rebs under Bragg. The forces were about equal, but Bragg retreated & Buell very slowly advanced. It was a drawn battle. Treason on our side was strongly hinted, as Buell was a son in law to Bragg. He was relieved of command and never was in the army after that. John H. Morgan, the Rebel cavalry leader and raider, was on the left flank of Bragg to prevent reinforcements reaching Buell. This brought him near us and in our territory. Then Lieut. Col. Patrick, with our regiment, was ordered out to meet & whip him if we could. But he ran too fast for us. We charged into Hopkinsville in the grey of a frosty October morning with sabers drawn, riding by fours, expecting every moment to be amongst them. But their rear guard was going just as fast out of the other end of town, so, besides a little skirmish with their rear guard, we got in no fight with him. In fact, Morgan never did care to fight and got out of it whenever he could. His main object was to harass our troops, capture any straggler, burn bridges, destroy trains and get back to his suave stamp grounds as fast as he possibly could. Such was the celebrated (guerrilla) leader John W. Morgan, CSA. We captured several hundred
35
---
barrels of flour that he in his haste to get away from us had to abandon at Hopkinsville, but the flour was hardly any good. It was so old that it was full of flour worms a yard long. Well, we stayed there that day and night, baked flapjacks (worms and all) by the stack, destroyed what flour we could not eat, and started on the trail of Morgan the next morning. Our advance guard soon overtook their rear, and up to noon kept skirmishing with them. We had evidence of the skirmishes & that Morgan did not get away with all his men & plunder by finding dead Rebels along the roadside every little while. At Garrettsburg, Ky., we had about abandoned the chase. All at once our rear guard came rushing up yelling that the Rebs were coming and the Lieut. of Co. L was killed. We were soon drawn up in line to give them a warm reception, planting our only gun in the center of the road. But they failed to come. It seems the rear guard under Garrity got careless. He ordered a halt and went into a blacksmith shop to have his horse shod. Then, a number of Rebs from ambush rushed up, opened fire on them, killing the Lieutenant. Then they rushed away again. Well, our trip ended there and we went back to camp again not having accomplished very much.
Sometime during this summer we were called over to Ft. Donelson. The guerrilla Woodward and his ragged Rebels were threatening the small garrison stationed there. Viz. The 13th Wisconsin Infantry was sent back in disgrace from the front to guard the fort for cowardice at the Battle of Shilo. Well, they were near there when we ran into them on the road near the extensive iron works of John Bell, candidate for president in 1860 on an independent ticket. The works were on the south west bank of the Cumberland. We destroyed them. Well, the Johnnies laid a trap for us and we fell into it and got severely punished, losing several men as killed, a few captured. Among the killed was one commissioned officer. I don't know their loss, but some of them were killed and wounded. We stayed at the fort that day, then went back to our camp at Ft. Heiman. We took up the same routine again, scouting around the country fighting guerrillas and bushwhackers. Now, as Captain Nott had resigned, it left a vacancy to be filled. 1st Lieut. M. M. Wheeler was promoted to Captain, Levi Moreing to 1st Lieut. and Orderly Sgt. Andrew Guler to 2nd Lieut. I, being next in rank as QM Sgt., should have been promoted to Orderly Sgt. But owing to my brother Dave's solicitude for my safety, I was skipped and Sgt. L. H. Carley became our
36
---
Orderly Sgt. My position as QM Sgt. would keep me out of danger of exposure of battle by having to look out for our stores and all the supplies, which were necessarily kept in the rear at such times, and I was responsible for their safety as well as for the ammunition that I had to give out. I, however, never missed a scout, battle or skirmish when with the command. But Dave always tried to shield me. So he went to the Capt. and begged him to keep me as I was. He promised to do so, and kept his word by promoting Carley. Carley made a good Orderly. He was a large, fine looking and brave man; every inch a soldier. But I felt very bad over it, as it kept me out of a commission to the last of the war. It would have been a reflection on me as a soldier, had it not been understood why it came about. Dave always regretted it. We celebrated the promotion in great shape, as apple jack and commissary whisky was on hand for the occasion; but we will pass this up. Thus we spent our time until the next February.
1863
We were suddenly called over to Fort Donelson on the 13th of Feb. Forrest, Wheeler and Wharton, the Rebel generals, with quite a large force of 5 to 6000 men suddenly appeared in their front and demanded its surrender. The garrison consisted of the 80th Ill. Infantry under Col. Harding, about 7 or 800 men and one company of our regiment. The Col. at once telegraphed to our Col. Lowe for assistance, which he promptly obeyed by sending us over. We did not get on the way until late in the afternoon, as it took some time to cross the Tennessee river, but we made what haste we could. We arrived within 4 or 5 miles of the fort when it began to get dark. Our company had the advance, and Lieut. Guler and myself were riding side by side in the extreme advance when, while going up a hill and about half way up, we suddenly saw 3 or 4 men step out from behind some trees. They called "HALT!", but at the same time raised their guns and fired into us, killing Lieut. Guler's horse. We returned their fire with our revolvers until we received orders to fall back to the regiment. Of course they were the Reb's picket, and in all probability, the outpost. As the night was now dark, the woods thick, and no telling what force there was in front of us, the Col. thought it prudent to wait where we were until morning. We had only our regiment 7 or 800 strong. We might have gotten ourselves into a nice ambush had we gone on. Every one of us might have been killed or
37
---
captured, for they would have had us at a great disadvantage behind trees in the dark in those woods. Our Col. did a wise thing there, no doubt, he was always very cautious. Too much so, we often thought. We chaffed and fretted because we were kept in the rear guarding forts, when we should have been at the front with the main army; and we blamed him for it. But if so, he did us a great favor. For, had we been at the front, many of us that got home and those still living would now be filling Southern graves. So under providence to him, we are indebted to reach home again and be able to tell our war stories to our children and grandchildren. Early the next morning we marched on and in a couple of hours we reached the fort. But the battle was over and the Rebs were gone. They were frightened of the appearance of our gunboats coming up the Cumberland River and the thought of their throwing their immense shell amongst them, and also knowing that we would be on hand very soon. It was a gallant fight that our men made at the first appearance of the Rebs. Col. Harding called his force into a small circular fort defended by 2 or 3 good sized cannon and, though the Rebs charged and stormed the fort up to its very guns twice and again during the night, our men hurled them back with grape shot and shell and their rifles and carbines. It was well they had a brave and gallant commander. Harding, although an old man, would not surrender. The Rebs lost several hundred men, and there were some fearful sights, for our men poured grape shot right into their faces. The Johnnies charged right up to the very muzzles of the guns in their effort to get inside and capture the fort, but they met more than their match that time. Our boys were detailed to bury the dead. My brother Dave was one of the detail, and a curious or strange thing came to him. He found among the dead Rebs the one that was in charge when he was taken prisoner on the 5th of May, 1862. He recognized him by a ring on his finger that he took from Dave at that time. The loss on our side was trifling, as our men were protected behind earthworks and the fort. Our regiment followed up the retreating Rebs, but they ran too fast and had too long a start for us to catch up. We got a few stragglers. I think Forrest was a good general, one of the best cavalry leaders the Rebels had. He lost few battles, but this time he got whipped bad; and that by a largely inferior force as to numbers. We went back to camp at Ft. Heiman, and the rest of the winter we were quiet. We scouted around, rode out to Concord to see our little
38
---
southern girl and swap our spare coffee for a dinner, down to Turner's to see if the old woman was yet alive or the girls any homelier, or down to the Dutch Pony and swap yarns with the old man and flirt with the Pony when the old people were not watching. And so passed the winter of 1862 & 1863.
The next thing of importance was when the news, or rumor, came that a large force of Rebels under General Forrest was gathering in the vicinity somewhere near to and about Paris, Tennessee, was on the way to Paducah to capture it and, by the way of a diversion, gobble up our command and its stores and supply depot. These, at that time, were large and valuable as, besides our own post, Forts Henry and Donelson drew all their supplies from here. Col. Lowe was at that time in command of the 3 posts, and his headquarters was on a steamer at our landing. We knew that we could not hold the place against any considerable force, so orders came to pack up and prepare to abandon the camp. Very soon we left our fine camp where we had been for over a year. We had the best time as to comfort and supplies we ever had in the 4 years of our soldiers' life, but did not then appreciate it as we afterwards did. We often wished we had not left it, for very soon after we were at the front under Gen. Rosecrans in Murfreesboro, Tennessee. We were now with the 14th Corps, Army of the Cumberland, Gen. Geo. H. Thomas commanding; and under the immediate command of Gen. David Stanley, commanding his cavalry. Well, we arrived the same day at Fort Donelson where, on the bluff overlooking the Cumberland River, we soon had a comfortable camp of shacks. They were made mostly of shingles, which we got in about the same way as the log houses at Ft. Heiman (from the frame houses of the village of Dover, just outside of the fort). That is where the Rebel Generals Floyd, Pillow and Buckner made their headquarters before and during the battle of the 3 days of the 13th, 14th & 15th of February, 1862. There Gen. Grant also received the surrender of the fort from Gen. Buckner and made his headquarters until he moved up to Pittsburg Landing. It was in an old, somewhat dilapidated, half log and half frame, 2 story building called the Village Hotel. Dover was then a poor straggly village of 4 or 500 inhabitants, mostly women and children. The men folks and even the boys from 15 years up were in the Rebel army, for this part of the country was intensely suspicious, and the women have very plainly showed it. My shack
39
---
was next to the Capt. and Lieutenant's, very near to the best & most respectable building in the village. It was, at that time, occupied by a widow (so she said) and two grown up daughters. They were fairly good looking girls and the best educated and behaved we had met so far. They kept several cows, so we traded off our extra supply of coffee and sugar for their milk, butter and buttermilk, which were a luxury to us as much as our coffee &c were to them. In this house we saw no evidence of their use of tobacco in any form, as we did in nearly all we had visited before. Here we had a fine, easy time of it the few weeks we were there. We, of course, spent half of each day in drill and sword exercise. The most exciting day or time we had while there was when, one day, we saw a small sternwheel boat coming down the river which, on nearer approach, turned out to be a Rebel gunboat with a small crew and one or two old fashioned small cannon. The river was very low, as is always the case in July & August (and in fact from May to September), and when it got opposite our camp, it got stranded in the mud. Our boys then waded out and captured it without any trouble or protest from the Rebs. Who, poor devils, I guess were glad to surrender. We burned the boat and all stores on it that were of any account (and very little them were of that). The capture was more ludicrous then glorious, and for a long time the boys had lots of fun over the capture of a gunboat by cavalry. While here, orders came from Washington for a quarterly ordinance report from each company and account of all arms, ammunition, horses & their equipment. This included every buckle & strap as well as bridles & saddles and everything belonging to them, no matter how small or insignificant. The same was for all arms: sabers, carbine & revolvers and every scrap and shred, no matter how small, that had been received by each company since we were in the service. A large blank folder was given to the Quartermaster of each Company to fill out. Now here was a poser. We had now been in the service nearly 2 years and had drawn arms as often as we liked, discarding anything with which we found any little fault or just for want of a nice new carbine, revolver, bridle or saddle. There was no thought on our part that we would ever have to account for them. It was a hard nut for the QM Sgt. to crack. The order gave us, I think, 3 weeks to fill out and send back the folder. After trying to solve the riddle for several anxious days and nights, I began to see my way. I filled out the blank folder by showing HQ as having sent full arms of all kinds of the type then issued for
40
---
---

If you have any questions or comments, please e-mail me at
larry@conzett.org. Thank you.